Cut back on alcohol and feel a bit better
every day - it's easier to start than you think
Feel healthier, lose weight and save money. Just pick your days to skip alcohol and get practical support to stick with it.
Ways to cut down
Top tips to cut down on alcohol
From swapping to lower-strength beers to dodging rounds, read our top tips and drink swaps ideas to help you drink less.
Find out more >
Know your units
You may be surprised at how much alcohol is in your favourite drink. Use our guide to tally up your units and get practical ideas to cut back.
Find out more >
Need more support?
There's lots of help out there - use your local alcohol support service or call Drinkline free on 0300 123 1110.
Find out more >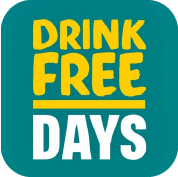 Download the
Drink Free Days app
Drink Free Days is for people who like a drink but want some support in tracking and cutting down on the booze. Understand more about your current drinking and risk levels as it common for people to underestimate how much they drink.
Simple and practical tips to help you control your drinking
Easy to update and track your Drink Free Days
Receive reminders when you need it most
Celebrate milestones when you reach your targets